Your Protection
Northland Recovery Bureau, Inc. complies 100% with the FDCPA and contacts the police immediately after any repossession. We carry exceptional insurance coverage through our Recovery Specialist Insurance Group (RSIG) policy that is exclusive for repossessors. We maintain our CFPB compliance through our membership with Allied Finance Adjusters, and are covered by their $1,000,000 Client Protection Bond.

Northland Recovery Bureau is a proud member of EAGLE GROUP XX because we represent the highest standard of compliance, service and professionalism in the Asset Recovery Industry.

All NRB agents are required to pass the C.A.R.S. Certified Field Agents program and maintain a clean cut appearance and carry a picture ID at all times. We have also completed the Certified Recovery Agent program through RSIG's training and education courses.
Northland Recovery Bureau Compliance Documents:
Northland Recovery Bureau's secure compound is manned twenty-four hours a day, monitored by 9 high resolution low light cameras, and surrounded by a barbed-wire fence. Your assets are safe and secure at NRB.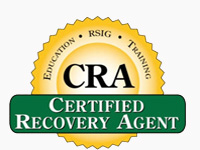 LICENSED • BONDED • INSURED