Welcome to Northland Recovery Bureau
Minnesota MN Repossessions, St. Paul MN Repossessions
Northland Recovery Bureau, Inc. is a locally owned and family operated full service collateral recovery company based in Burnsville, Minnesota. We are only 5 miles from Minneapolis MN and 10 miles away from St. Paul MN. At Northland Recovery Bureau we work closely with lending institutions to provide exemplary professionalism in the retrieval of collateral goods. We believe that good faith and integrity go hand-in-hand in running a business that includes accountability for our actions, reliability to the customers, and unbeatable customer service to all.

Northland Recovery Bureau is fully licensed, bonded and insured. We are members of Recovery Specialist Insurance Group (RSIG) and carry their custom insurance policy exclusively for repossessors. We are also members of Allied Finance Adjusters to ensure our CFPB Compliance and stay up-to-date on industry requirements.
Services Offered by Northland Recovery Bureau:
Recovery of Voluntary Surrenders
Recovery of Involuntary Assets
Reconditioning Services
Remarketing Services
Transportation Services
All Equipment is 2012 or Newer
24-Hour Staffed Secure Storage with Video Surveillance, Barb-wired and Paved Facility
State of the Art LPR 2.0 DRN Camera Systems
Our Vision
To be the obvious choice for lenders requiring professional recovery.
Our Mission
We are dedicated to the mitigation of repossession risk by utilizing the current technological advancements, training, and education, leading to higher recovery rates and delivering professional results.
Minnesota Repossessions • Minneapolis MN Repossessions • St. Paul MN Repossessions
LICENSED • BONDED • INSURED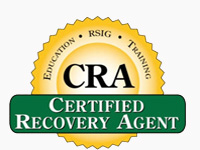 Northland Recovery Bureau
1800 Hwy 13 West
Burnsville MN 55337
952.303.4749 ph
952.303.4908 fax
EMAIL